Healthy Handwashing Survey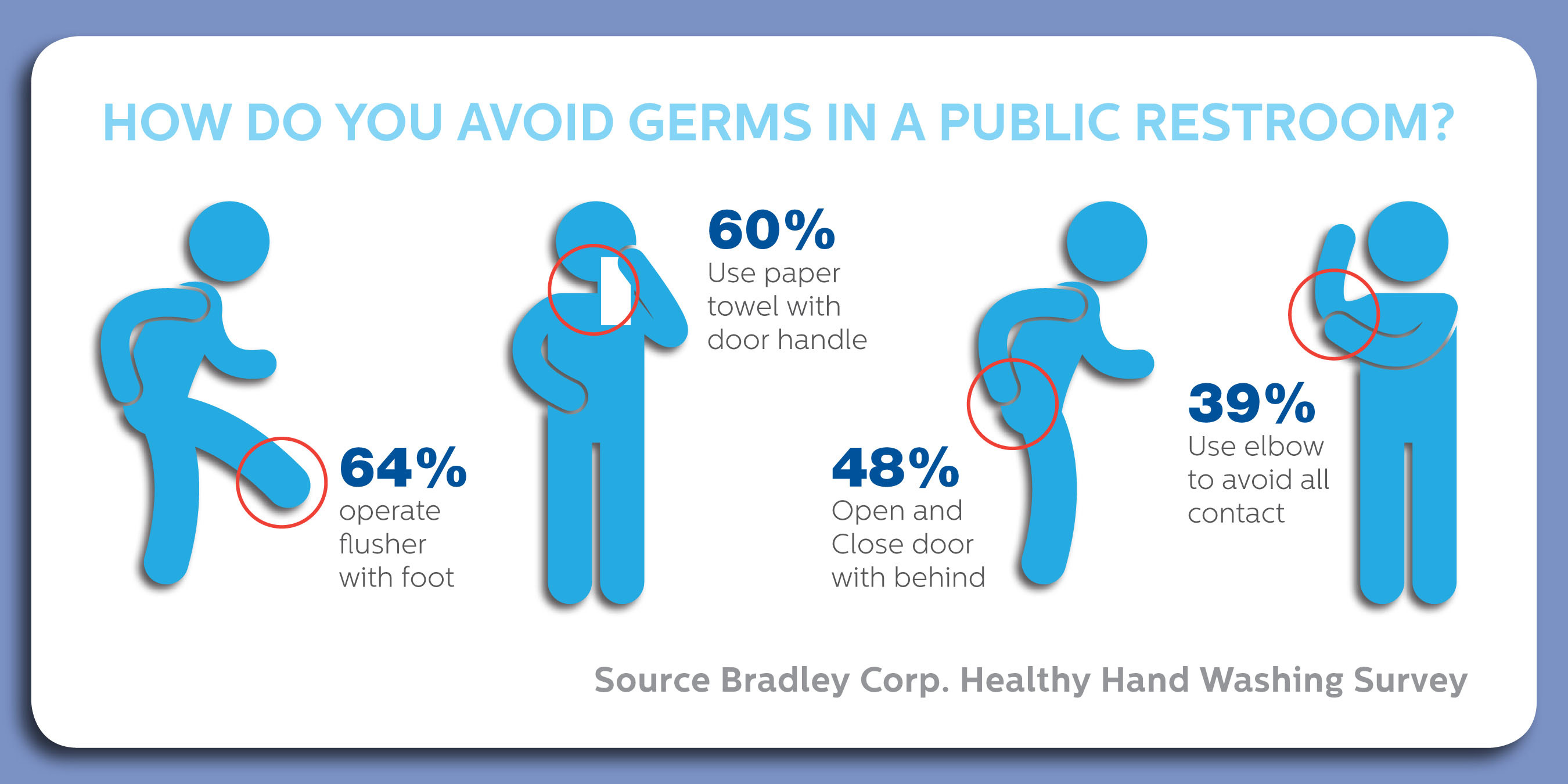 The results are in from Bradley's 2013 Healthy Handwashing Survey. The Healthy Hand Washing survey queried 1,015 American adults Aug. 1-5 about their hand washing habits in workplace and public restrooms. Participants were from around the country, ranged in age from 18 to 65 and older, and were fairly evenly split between men and women (47 and 53%).
Washroom Neglect
This year people were either less diligent or more honest about their handwashing habits. 70% admit to just rinsing without actually using soap. Two years ago, only 54% confessed to the same thing.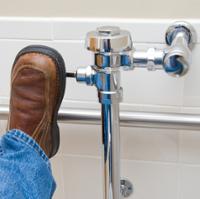 Americans witnessing someone else leave a public restroom without washing is on the rise too. This year, 81% saw a non-washing event compared to 74% last year.
Responses to Others Not Washing
Avoid contact with anything the non-washer touched
Wash their own hands more thoroughly
In general, avoid the person
People Don't Want to Touch Things in The Bathroom
64% Operate the toilet flusher with their foot
60% Use a paper towel when touching the restroom door
37% Use a paper towel when touching faucet handles
48% Open and close doors with their hip
"Good 'hand hygiene' is one of the most important, and easiest, things we can do to reduce our own risk of getting sick and of spreading germs to others. Thorough hand washing, using soap and warm water for a good 20 seconds, is highly effective in removing bacteria, viruses and other disease-causing microorganisms from the surface of our skin,"

- Michael McCann Ph.D, Medical Microbiologist, Professor of Biology, and Associate Dean of the College of Arts and Sciences at Saint Joseph's University in Philadelphia.
Gender Differences in Hand Washing
Men's Responses
Women's Responses
Say they always wash their hands
after using a public restroom
60%
74%
Number 1 reason for not washing
No Soap in Restroom
(Dirty Sink was #2)
Use of hand sanitizer
Didn't feel the need to wash up
2.5x more likely than women
Frequently see other people not wash their hands
38%
25%
"Men need to get the memo that hand washing is important no matter what. You just can't argue with the research that says it is the number one way to prevent illness and stay healthy."

- Jon Dommisse, director of global marketing & strategic development for Bradley Corporation
Hand Washing IQ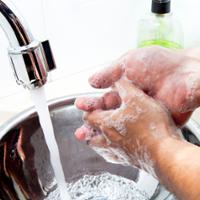 Most Americans seem to understand the need to wash up since 95% say it's important to wash your hands after using a public restroom. Parents also value the practice since 86% plan to talk to their children about hand washing before they go back to school.
Top 3 messages parents say they'll tell their kids about handwashing
Always wash your hands after using the restroom
Always wash before eating
Hand washing prevents the spread of germs
In addition, the survey shows that news reports about airborne or food-borne illnesses have an impact hand washing habits. More than half of Americans 57% say they wash their hands more frequently or more thoroughly in response to news coverage. That finding is backed up by the fact that 66% report they increase or improve their hand washing in response to seasonal flu virus outbreaks.
Public Restroom Dissatisfaction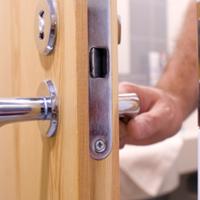 Unfortunately, more people than ever (63%) say they've had a particularly unpleasant experience in a public restroom due to the condition of the facilities.
The top complaints
82% Bad smell
79% Toilets clogged/not flushed
73% Overall appearance that's dirty, unkempt or old
More than 2/3 of Consumers Believe Bad Bathrooms = Bad Management
For businesses an unpleasant restroom experience creates negative perceptions. 64% of Americans say they'll either think twice about patronizing the business or will never frequent it again.
Workplace Restroom Condition Indicates Company Values
93% of Americans believe the condition of a workplace restroom is an indicator of how a company values its workforce.
61% of employees rate their workplace restroom as excellent or very good
6% say they have a poor or terrible work restroom.
41% Report Workplace Restroom Troubles
Clogged or unflushed toilets
Really bad smells
Empty, jammed or under-dispensing towel and soap dispensers
Workplace Handwashing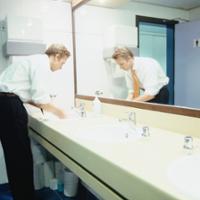 The survey also found that staying healthy is an imperative for American employees. 81% of workers say they consciously take steps to avoid the germs of sick colleagues.
Most Common Ways People Deal with Sick People at Work
Staying away from them
Washing their own hands more frequently
Shunning handshakes with sickies
Standing further away when talking
Telling them to go home
Least Common Ways People Deal With Sick People At work
3% Cancel meetings with sick people
2% Stay home from work themselves
1% Wear a surgical mask to work
Handwashing Is Important At Work
Only 8% of workers say they frequently see people leave the restroom without washing their hands there. In public restrooms 31% of Americans frequently see people who skip hand washing.