Bradley Earns Well Workplace Award by Wellness Council of America
Apr 07, 2015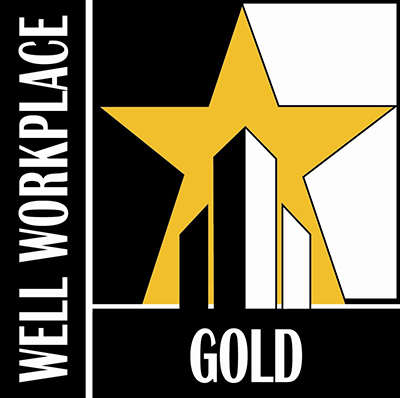 Menomonee Falls, Wis. (April 7, 2015) – The Wellness Council of America (WELCOA), with local affiliate Wellness Council of Wisconsin, recently presented its coveted Gold-level Well Workplace Award to Bradley Corporation, manufacturer of commercial plumbing fixtures and equipment for more than 90 years. The Gold Well Workplace Award recognizes an organization for its commitment to the health and well being of their employees.
Through earning the Well Workplace Award, Bradley has made a long-lasting commitment to the health and well being of its employees. Over the past three years, Bradley launched a number of wellness initiatives such as offering special discounts on exercise classes and wearable fitness tracker technologies, and providing reductions in health insurance premiums for improvement in physical fitness. Bradley also added a part-time on-site health coach to help guide people to more healthful habits, and offers fruit and other healthy snacks at its facilities.
"Many of our employees embraced these wellness initiatives right off the bat," said Mike Sipek, chief executive officer, Bradley Corporation. "What matters most is they were able to set meaningful and successful health goals for themselves. I believe our employees are healthier, happier and more engaged in their work and our company because of these efforts."
To date, more than 700 corporations, healthcare systems, public agencies, and educational institutions—employing over 2.25 million people—have met rigid worksite wellness criteria and have been recognized as some of America's Healthiest Companies.
"Bradley worked hard to successfully meet the rigorous standards set by the Well Workplace process. It is our pleasure to recognize them as the newest Wisconsin employer to achieve Well Workplace status," said Wellness Council of Wisconsin's executive director, Jessica Raddemann.
The Wellness Council of Wisconsin was founded in 1985 by nine employers from the Wisconsin business community. With more than 6,000 member organizations located throughout North America, WELCOA is highly recognized and regarded for their innovative and result-oriented approach to worksite wellness.
For more than 90 years, Bradley Corporation has designed and manufactured commercial washfountains, and today is the industry's exclusive source for plumbing fixtures, washroom accessories, restroom partitions, emergency fixtures and solid plastic lockers. Headquartered in Menomonee Falls, Wis., Bradley serves the commercial, industrial, health care, recreation, education, and corrections markets worldwide. For more information, contact Bradley at 1-800-BRADLEY or www.bradleycorp.com.