Prefabricated Lavatory Deck Application Guidelines
Terreon OmniDecks
Terreon OmniDecks are solid surface countertops with integral bowls to meet light hand-washing needs. The traditional LD-3010 Series or contemporary LD-3060 Series are sure to be a perfect match in any restroom application. Both the LD-3010 and LD-3060 Series are available in all 32 Terreon or TerreonRE colors. Certain local fabricators try to cut corners by providing a loose backsplash. With Bradley, all Terreon OmniDecks feature a coved backsplash as a standard feature. Typical laminate countertops with drop-in bowls cannot match the quality, style and durability offered by a Terreon OmniDeck.
Terreon OmniDecks offer many attractive features:
ADA and ANSI Compliance- Terreon OmniDecks standard or juvenile height mounting comply with ADA and ANSI requirements. See Product Information for more information.
Mounting Choices- Terreon OmniDecks are versatile and can be mounted in three ways. These options are sure to meet new construction or renovation needs.

Wall Cleating- By Installer
In-Wall Carriers- By Others
Mounting Brackets (Stainless Steel)- Factory Supplied Option

Additional Options- Faucets, front and side aprons, side splashes, backsplashes and deck mounted soap dispensers offer the flexibility necessary to meet most any application requirement. See Technical Data for more information.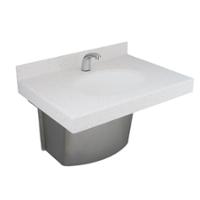 If flexibility is what you want, then the LD-3010 Series is what you need. Choose bowl placements or opt to have no bowls at all. Standard and custom models are available to fit most applications; the LD-3010 Series isn't just for the washroom, but for countertop and shelf applications too. Integral bowls are available in Mesa Bone, London Gray, Designer White, Organic Taupe, or the same color as the deck. The LD-3010 Series is also available with vandal resistant stainless steel trap cover
Standard Models:
LD-3010-1 Single Bowl OmniDeck (30" X 22" Deck)
LD-3010-2 Two Bowl OmniDeck (60" X 22" Deck)
LD-3010-3 Three Bowl OmniDeck (90" X 22" Deck)
LD-3010-4 Four Bowl OmniDeck (120" X 22" Deck)
Custom Models:
With a variety of options and sizes, custom deck designs are virtually unlimited. Consult technical data or contact your local Bradley Representative to assist in creating your deck.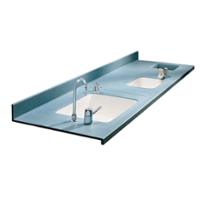 The TCS-Series is in a class by itself with a deck and integral bowl(s) constructed of durable Terreon solid surface. The Terreon Classroom Sink is available in all 32 Terreon and TerreonRE colors with optional faucets, drinking fountains, waste receptacle openings and soap dispensers.
ADA and TAS Compliance- TCS units are available to comply with ADA and TAS requirements. To be completely compliant with TAS guidelines for Pre-K through grades 5 or 6, the rim-height of the classroom sink must be 30" maximum above the finished floor. For grades 6 through 8 or 9, the unit must be mounted with a rim height of 32" maximum above the finished floor. To be completely TAS compliant for juveniles, the TCS unit must be equipped with TAS compliant faucet, TAS compliant casework, and 3?" depth sink. See Product Information for more details.
Safety and Cleaning- Optional integral liquid soap systems drain into a bowl and not onto the floor, making your washroom safer. A 4-sided drip ledge around the sink keeps the water in the bowl, not the deck or floor.
Casework- Cabinetry and casework by others.
Bradley faucets include:

Model

Description

Capacitive Sensing Gooseneck Faucet

Capacitive Sensing Low-Arc Faucet

Faucet with User-Adjustable Temperature Control

Infrared Activated Gooseneck Faucet

Futura Faucet with Infrared Activation
Terreon Imperial Wall-Mount Lavatory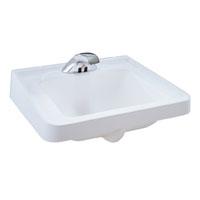 Typical china lavs don't come close to the durability and remarkable style Terreon offers. Available in 32 Terreon and TerreonRE colors the TL-18 (ADA compliant 21" X 18"), Imperial is a great choice for renovation and new construction applications. Select a Vernatherm Thermostatic Mixing Assembly (TMA) or a Single Tempered Line (TL) water supply. Other features include an integral molded overflow and ledged back.
ADA Compliance- Terreon Imperial Wall-Mount Lavatory TL-18 (21" X 18") meets ADA requirements. See Technical Data for more details.
Additional Options- Optional Centershank or 4" Centerset Drillings can also be selected to accommodate a Bradley faucet or faucet by others. A drain, strainer and tailpiece are also available.