Solid Plastic Toilet Partitions Application Guidelines
Bradmar solid plastic partitions are Bradley's solution for broken, dented, rusted and vandalized partitions. Bradmar is solid, one inch thick HDPE (high density polyethylene). Bradmar is impervious to moisture, so it won't rust, delaminate, mildew or absorb odors. The color goes all the way through the material, so Bradmar never needs painting and scratches can easily be repaired. Bradmar is highly impact resistant so the dents and broken doors that are so common with other types of partitions are practically eliminated. Graffiti is also no match for Bradmar - it can be easily wiped away with ordinary cleaners.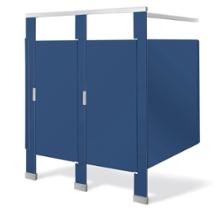 Bradmar is available in floor mounted overhead braced or floor-to-ceiling mounting styles. Urinal and sight screens and shower dividers are also available. Standard hardware includes full height continuous aluminum wall brackets, one piece stainless steel pilaster shoes and integral door hinges. The combination of one inch thick HDPE panels, pilasters and doors and heavy duty corrosion proof hardware make Bradmar partitions virtually indestructible. With 24 colors to choose from, there is a Bradmar product to solve almost any challenging partition application.
Bradmar partitions are more expensive than many types of partitions - typically three times the cost of metal. In applications prone to high humidity or vandalism, however, they actually save money in maintenance and replacement costs down the road. The material has withstood the test of time - HDPE partitions have been performing in the marketplace for over 20 years and all Bradmar materials are covered by a 15 year warranty. The low maintenance and high aesthetic values of Bradmar partitions make them an investment in the future. Following is a sampling of the type of applications best suited to Bradmar partitions and some key considerations for specifying them.
Common Applications

Key Considerations

Schools
Colleges & Universities
Stadiums & Arenas
Theme Parks
Swimming Pool Locker Rooms
Health Clubs

Moisture resistant
Graffiti resistant
Heavy duty hardware
Integral door hinge
ADA compliant hardware, layouts
Higher initial cost, low maintenance costs