Evero Natural Quartz
Surface

Evero natural quartz surface – the first and only natural quartz surface that can be molded into round and curved shapes – imagine graceful curves and soft radius edges. Elegant shapes. Effortless beauty that will last a lifetime.
Evero is a durable, non-porous surface that is easy to clean and maintain. The absence of cracks or crevices prevent bacteria and mold from accumulating. Evero is also chemical, stain, impact and scratch resistant, and it's repairable.
Geo Series
Fuses the elegance of quartz with the durability of granite and the allure of exotic materials. This series is a blend of bio-based resin, natural quartz, granite, recycled glass and other exotic minerals, and has 25% recycled content.
Pearl Series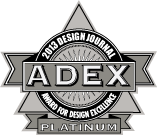 Mesmerizes with a luminous blend of quartz, seashells and glass. This series is a blend of bio-based resin, natural quartz, seashells, recycled glass, and has 70% recycled content.

Both varieties of Evero Natural Quartz Surface are GREENGUARD Certified.
Evero brings new sophistication to commercial washroom design. The virtually maintenance-free, natural looking material is available in the new Verge Lavatory Systems and in OmniDecks.
Evero is the natural solution for your design journey.
Evero Color Selections
Pearl Series

Akoya

Black Moon
Geo Series

Andorra

Antarctica

Black-Sea

Cabo

Denali

Everest

Glacier Bay

Kalahari

Mojave

Mykonos

Nassau

Patagonia

Sierra Madre

Tuscany

Yukon
Due to graphical variances, the actual color may differ. Actual material samples are available thru your local representative.