Bradley Corporation Innovations
Innovation is the hallmark of successful companies. Over the years, Bradley has used its innovative thinking to create a diverse product line focused to serve any commercial washroom application. The principals of creativity, craftsmanship, and quality continue to drive product innovations now, and in the future. One thing is certain at Bradley the innovation pipeline never stops.
The Washfountain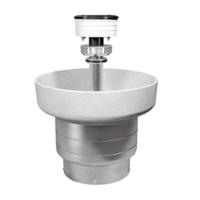 Introduced in 1921, the washfountain revolutionized handwashing. No other handwashing fixture could replace up to eight traditional china sinks, reduce water consumption by 80%, and increase usable space. Over the years, the washfountain has adapted to new technologies and now incorporates different sizes, shapes, materials, and features. Today, the concept behind the original green fixture remains unchanged - less water, less space, fewer materials, less maintenance.
Advocate Lavatory System
Experience the future of hand washing with the all-in-one Advocate Lavatory System. By placing a more efficient, completely touchless soap dispenser, sink and hand dryer side by side, we've given users more personal space, while keeping water off the floor and eliminating towel usage. With the Advocate, everything's within reach for the ultimate in cutting costs and cleaning time.
Learn more about Advocate Lavatory Systems
Surface Technology

Through extensive market research and testing, Bradley has developed two of the most reliable and attractive materials in the industry, Evero Natural Quartz and Terreon Solid Surface Material.
Evero blends natural quartz, granite, exotic minerals, and an eco-friendly resin. The material is GREENGUARD Certified and made with 25% pre-consumer recycled content. No other natural quartz material can be molded into round and curved shapes. When architects need a beautiful, maintenance-free surface for its high end commercial washroom application, they choose Evero
Terreon Solid Surface

Building owners turn to Terreon solid surface material for long lasting performance and style. The smooth, non-porous surface prevents bacterial growth and is easy to maintain. TerreonRE has all the benefits of Terreon, but is composed of an eco-friendly bio-based resin and 25% pre-consumer recycled granules. Both materials are GREENGUARD Certified. With so many features, it's no surprise Terreon and TerreonRE recycled solid surface are Bradley's most popular materials.
NDITE Technology

Roughly 2.5 billion pounds of batteries fill landfills each year. Building owners can help reduce that number by installing plumbing fixtures with NDITE technology that works without batteries or electrical connection. Photovoltaic cells capture light and convert into energy for years of trouble-free operation. Only Bradley can develop the technology to power hand washing fixtures without electricity or batteries. Environmentally friendly technology keeps dangerous chemicals from leaking into water basins.
Spintec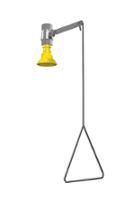 Employees working with harmful chemicals demand safety solutions in case of emergencies. Bradley drench showers with Spintec shower heads make safety the top priority. Spintec shower heads take fluid dynamics to a new level, providing the most consistent distribution of water from a drench shower resulting in quick relief for users. Spintec delivers a soft, high velocity spray improving contaminant removal, all while using less water.
Navigator Lead-Free Thermostatic Mixing Valves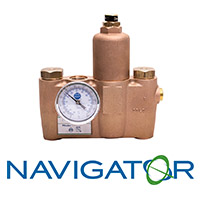 Nationwide, there is a growing concern regarding human exposure to lead in drinking water. To meet changing demands in the industry, Bradley Corporation is the first manufacturer to Get The Lead Out and offer lead-free Thermostatic Mixing Valves. All components in Bradley's Navigator valve design including brass castings, bar stock, and stainless steel comply with new lead-free requirements. American-made and 100% factory tested. Join Bradley and be an active participant in the movement towards reducing lead content in water.
Learn more about lead free standards